I've been to Jeju twice – the first with a Chan Brothers tour group (so I didn't have to worry about getting around), and the second with two other friends. Jeju's natural attractions may not be easy to get around via public transport (sans taxi), but it's not totally impossible. One of the ways we did it was via Jeju Tourism Association's buses. On the first day, we took Jeju Intercity Bus, and the second day Jeju Golden Bus City Tour. I'll be writing about the Golden Bus here, and the Intercity one in a separate post.
(Also apologies in advance for the lack of photos taken by me in this post, as I forgot to take photos of the bus and Bus Terminal ): All photos here [besides the maps] are taken from Trazy)
Here is a list of the bus route stops in text, taken from KTO:
Jeju Tourist Information Center → The street of BaoJian (The Hotel) → Lotte City Hotel Jeju → Jeju International Airport → Jeju Intercity Bus Terminal → Jeju City Hall (Daehangno road) → Samseonghyeol (The entrance of Jeju KAL Hotel) → Folk and Natural History Museum (Sinsan Park) → Sarabong Peak (Sanji lighthouse) → International Passenger Terminal → Jeju Coastal Passenger Terminal → Dongmun (East Gate) Market (Sanjicheon Stream) → Jeju Gwandeokjehong Pavilion (Jeju Mokgwana (Former Jeju Government Office)) → Tapdong (The entrance of Ramada Plaza Jeju Hotel) → Yongduam Rock (Dragon Head Rock) (Yongyeon Estuary) → Eoyeong Coastal Road → The entrance of Dodubong Peak → Iho Tewoo Beach → Black pigs restaurants alley → Jeju Museum of Art (the road of mystery, Loveland) → Halla Arboretum (Arboretum theme parks, Nexon Computer Museum) → The entrance of Jeju Grand Hotel → Shilla Duty Free Shop → Jeju Tourist Information Center
The stops highlighted in orange are the ones we visited in one afternoon, as we spent our morning at O'Sulloc and Innisfree Jeju House. Some of the stops overlap with the ones on the Intercity Bus Tour, and I've highlighted this in blue to show the ones we took the previous day on the IBT.
As you can see, the bus route covers quite a few attractions in Jeju, which is very convenient. Our bus ticket cost us 12,000 won, and allowed us to hop on and off at any stop we wanted to. I'll be writing separate posts on the various attractions in the future, and will list them down here.
If you stay in any of the hotels along the bus route, this is definitely a very convenient option that you should consider taking. The only downside about this is that the bus only goes in one direction, which means that when you reach your last stop, you might need to find a public bus to take back, or else take a taxi if you're totally lost – but hey, still beats taking a taxi to all the locations, right?
We took the bus from Jeju Intercity Bus Terminal since we didn't stay at any of the hotels listed on the bus route. If you're planning to go straight there from the airport, you can take bus 100. The bus comes punctually every 1 hour, so it's best to check the timings carefully from the flyer, which you can get from the tourist counter at the terminal.
Taking this bus is just as easy as getting on and off at whichever stop you wish. You just need to purchase one ticket once you get on the bus, and remember to keep your ticket with you as proof every time you board the bus again. Try to let the service staff on the bus know in advance which stops you wish to get off at, as the bus driver might skip stops with no one there, and you might accidentally miss the bus stop announcements.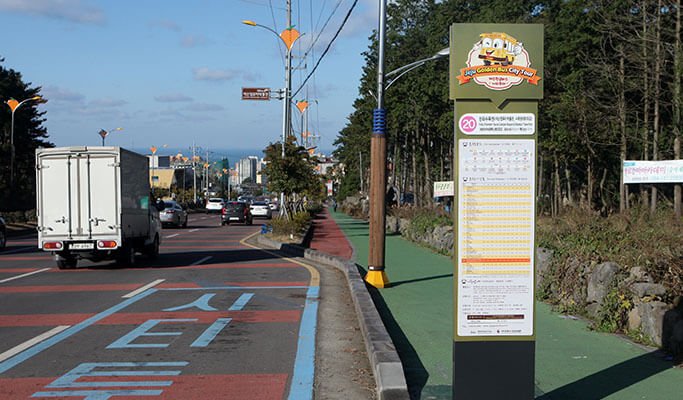 Example of the bus stop to wait for the Golden Bus
However, the bus only comes to every stop every hour, so if you happen to miss one bus, you might end up waiting very long for the next one. Other than that, I would strongly recommend this if you are cash-strapped and/or looking to travel via public transport in Jeju.
---
TICKETING
Fare: Adults 12,000 won / Teens (ages 6 and older) 10,000 won
Ticket Purchase: Tickets can be purchased from the bus driver upon boarding.
Languages: LCD monitor and audio service available in Korean, English, Japanese, Chinese
Closed on: Every third Monday of the month.
Website: www.jejugoldenbus.com (Korean, English, Japanese, Chinese)
For more information, visit KTO's website here.
---
Trazy offers a discounted price of USD 10.50 for bus tickets – book your tickets now!