While searching for places to go in Incheon, I chanced upon this island that was just a little way offshore, but accessible by bus in Incheon, so I put this on my list and headed the next day.
Plus point: This was the filming location for Descendants of the Sun, Running Man & Two Days One Night!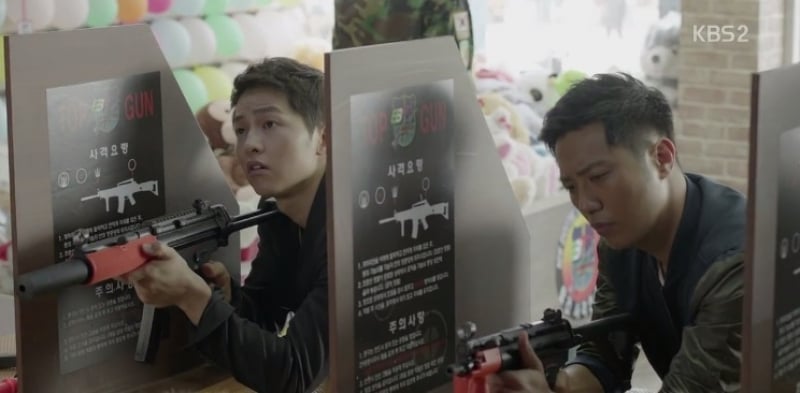 ---
Wolmido Island (월미도), located roughly 1km off the coast of Incheon, has since become part of the mainland with the creation of a new highway. The name Wolmido Island comes from the shape of the island as it resembles the tail of a half moon. Thanks to its location near Seoul and the convenient transportation, many people visit here during weekends.

The Culture Street starts with Doodle Pillar, and continues onward to Meeting Square, Arts Square, Performance Square, Good Harvest Square and several other notable highlights. Throughout these areas, spontaneous performances are performed, and street artists can draw for you on the spot. Moreover, many cafes and seafood restaurants are lined along the coast so you can enjoy coffee or fresh seafood while viewing the sea.

A must-see attraction on Wolmido Island is "Play Hill." It's not as large as other theme parks in Korea, but the Apollo Disco and the Viking rides are truly thrilling. If you're not into rides, the Apollo Disco ride is still fun just watching. You can also get on a cruise to look around the island.
---
The first stop we got off at was "Play Hill" (actually I had no idea that's the name of the theme park, I found out just after I wrote this haha, I used to refer to it as the Wolmido Amusement Park). If you're a big DOTS fan, you have to visit this because that's where the first episode was filmed.
Entry to this theme park is free (unlike Lotte World and Everland) so you can sit down and watch people screaming on rides even if you're not keen on screaming yourself. We went on a weekday so you can see that there aren't crowds. I love the colours and vibrancy of the place despite the lack of people though – just look at how great everything looks in photos. I would strongly recommend coming here for photo shoots, but not on weekends when this place can get pretty crowded.
If you must try one ride here, it's definitely the Apollo Disco. I was highly entertained when I saw people getting tossed around and bruised on it because they kept laughing at how terrible they themselves looked. Okay, that may not sound like much of a selling point, but it's a ride that you may have seen in Korean shows, and I don't recall seeing Lotte World and Everland having this. You even get to boast afterward that you survived this violent ride.
---
The rest of our time on Wolmido Island was mostly a nice, peaceful afternoon stroll. The scenery here is really beautiful, and it helps you to forget that you're (kind of) in a city.
I love everything about this place EXCEPT THOSE SEAGULLS. What's worse than the seagulls are probably the people FEEDING THEM BREAD. Why? Why would you do that?? Every time someone reached out their hands with bread, there would be at least fifty seagulls swooping down and attacking them, and the people around them would have to duck. I immediately whipped out an umbrella to cover my head when I saw the bird poo on the floor, and I would advise that you do the same if you want to go back to Seoul with a clean head. Also, please just don't feed the seagulls if you ever come here.
We walked here around mid-afternoon, which was not the best idea in the midst of a scorching summer. We were craving for something cold and ta-da, Sulbing!
I'll probably talk about this in a separate post but just remember to look out for Sulbing if you're dying from the heat here in summer!
---
We finished our bingsu at around 4pm, and because I was anxious to complete the most important agenda of the day (aka visit Hanmi Bookstore), we didn't explore the whole island and headed back to the 'mainland' instead.
I really liked this place because it was a refreshing change from Seoul. In fact, one of my favourite memories of Incheon is probably Wolmido Island (aside from Hanmi maybe ahahaha). I haven't been to Wolmido in winter, but I can assure you that summer is a great time to visit.
Just be careful of those seagulls.
---
DIRECTIONS
252, Wolmi-ro, Jung-gu, Incheon
인천광역시 중구 월미로 252 (북성동1가) 일대
Directions
[Bus]
Incheon Station (Seoul Subway Line 1).
– Exit the station and take Local Bus No. 2, 15, 23 or 45 bound for Wolmido.
– Get off at Wolmido City Tour, Wolmi Culture Street, or Wolmi Final Bus Stops.
[Taxi]
From Incheon Station, it takes about 10 min to Wolmido Island (월미도).
---
PIN THIS!